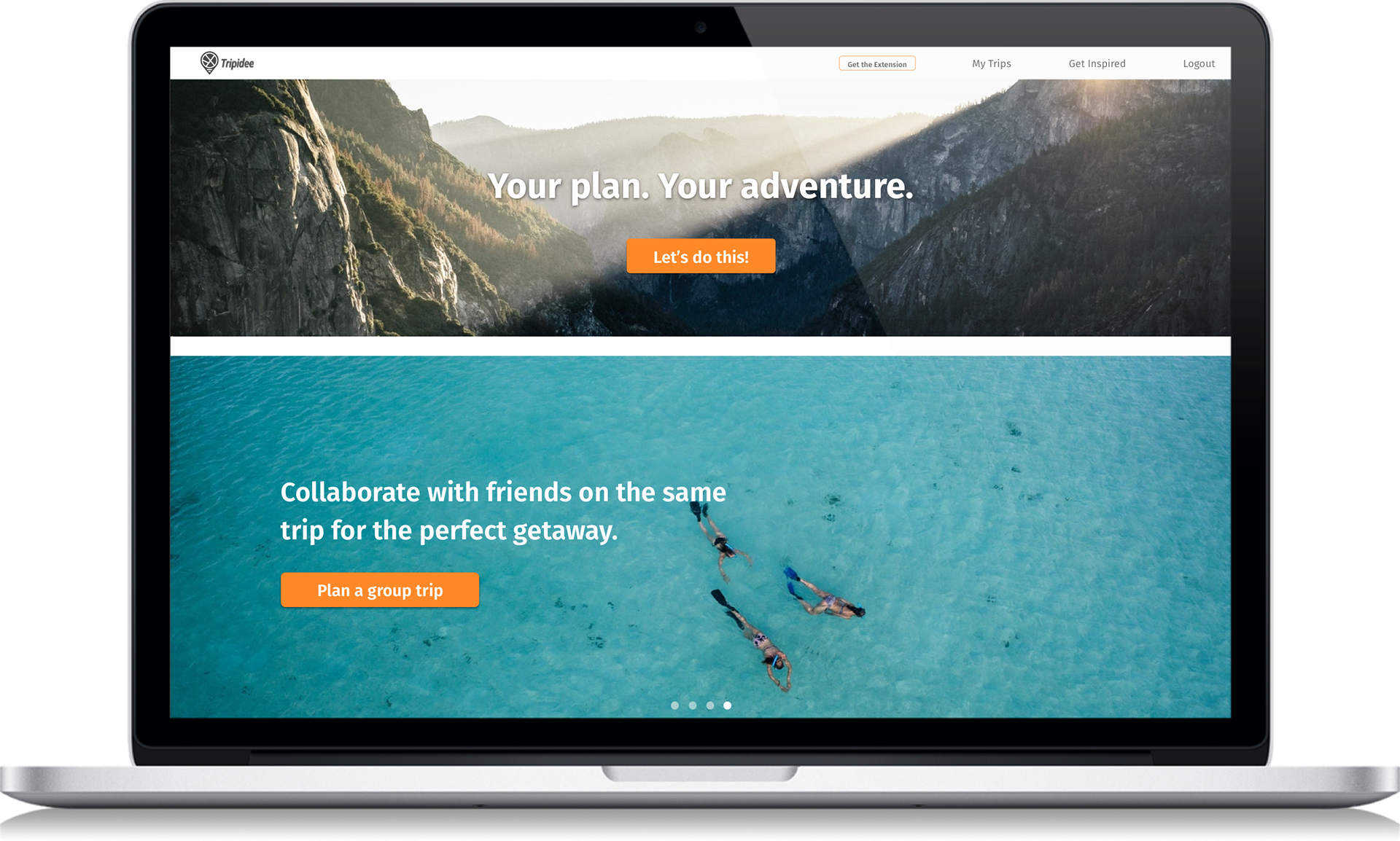 Tripidee is a trip planing application where users use an assortment of cards to plan and share trip agendas. Tripidee came to us to redesign their desktop website and during the three weeks we had for this project, my team designed and tested high-fidelity mockups, prototypes, and created style guides.
​​​​​​​
Their current website suggests friendly and exciting, but in order for it to grab and keep the users' attention it needed to appear more adventurous. Their initial homepage was designed with a large emphasis on showing off its features and less on enticing users with the trips themselves. Like the UX team, I felt that even if they had a great product it wouldn't be used if users couldn't envision themselves on a great trip from the onset. I needed to design for a website that would both offer the opportunity for a great trip and air the reliability of a solid product with fun features.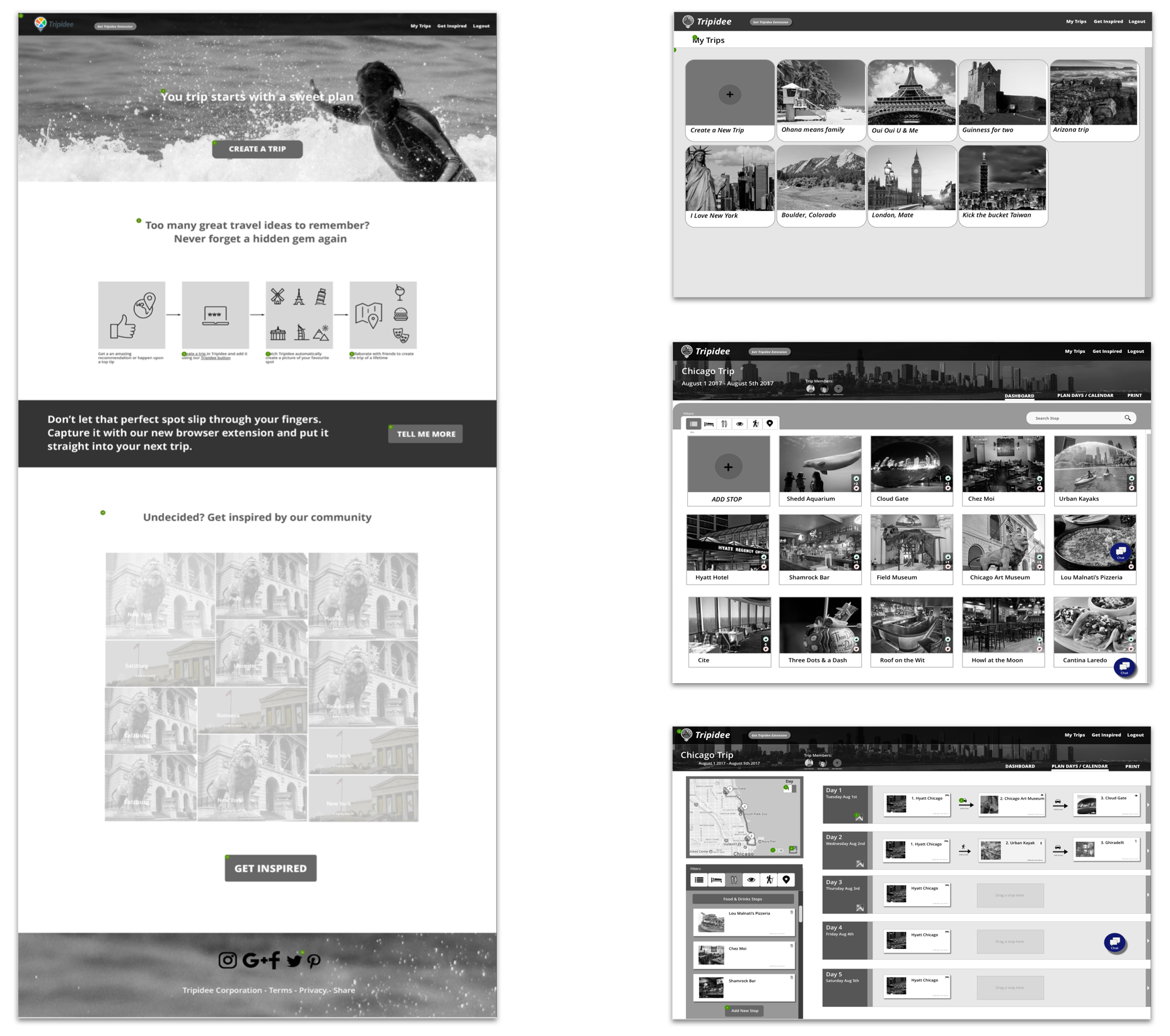 In a market where there are dozens, (if not hundreds) of other trip planning sites, we needed to separate Tripidee from the rest of its competitors. My team scoured over dozens of travel sites and narrowed it down to the four that best represented the aesthetic diversity of the trip-planning market.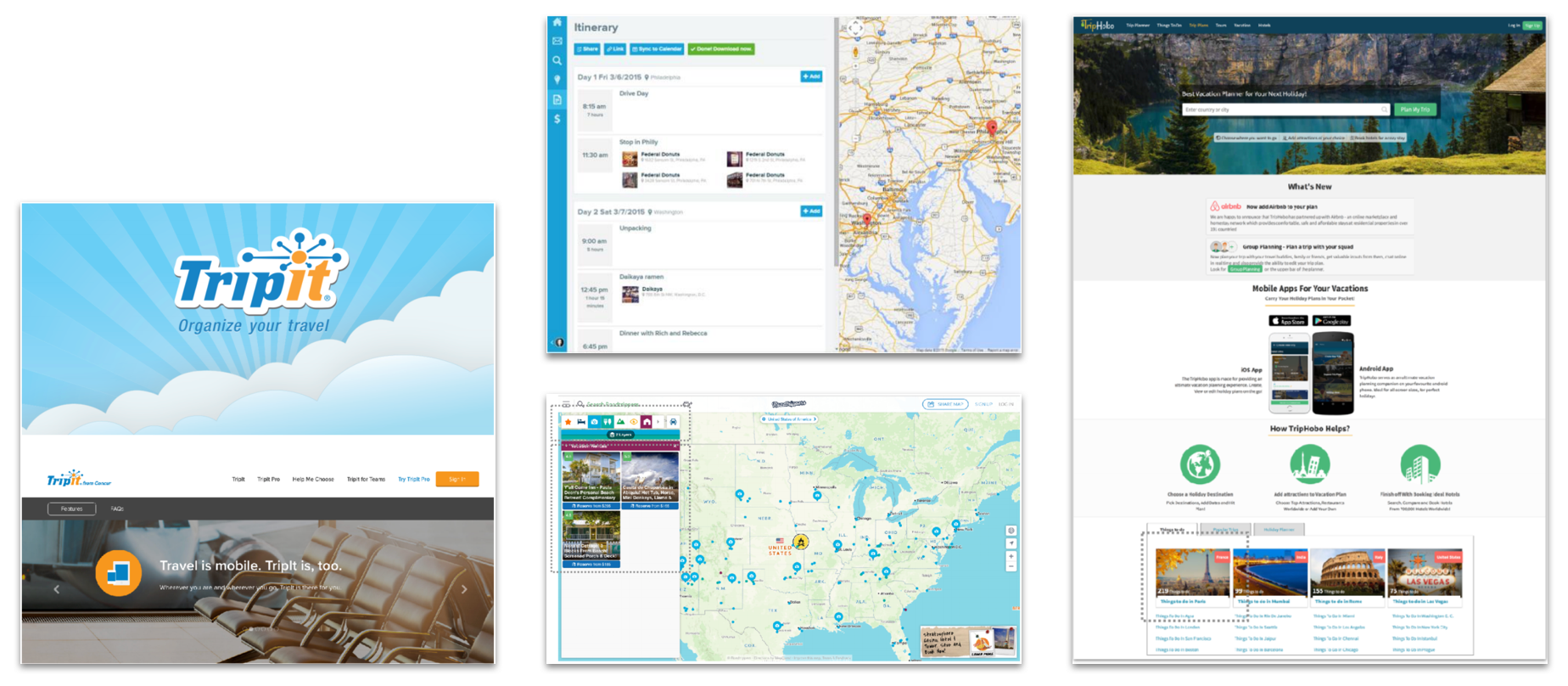 We noticed a trend among most travel sites: they varied between using heavy imagery or a lot of illustration or were tonally either business-like or relaxed and light-hearted. The ones that limited their scope of color tended to be more organized, but lacked excitement while the ones that used a lot of color seemed cluttered. We then created a matrix to map out where each company sat in relation to each other in order to figure out how Tripidee would be able to stand out.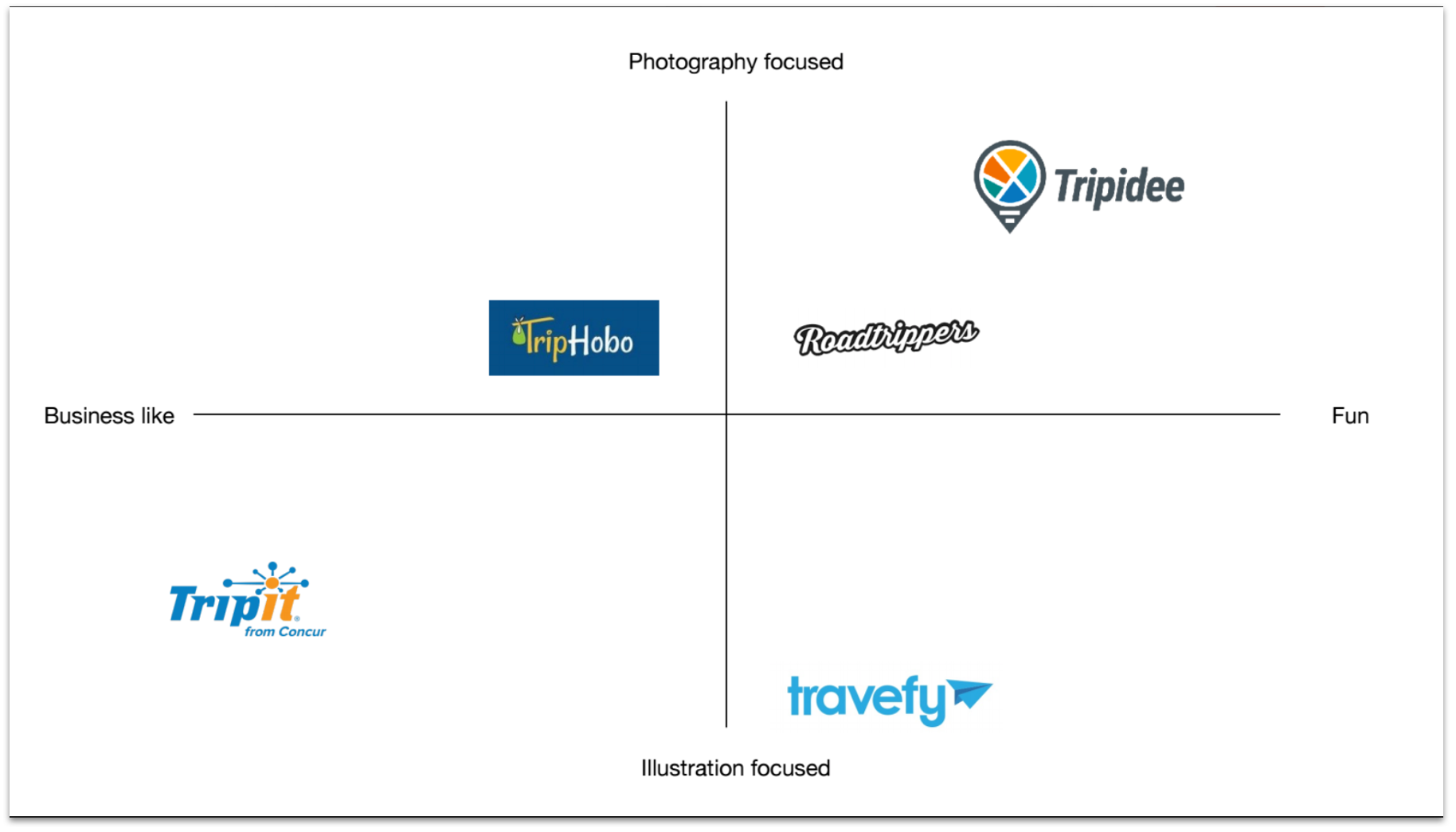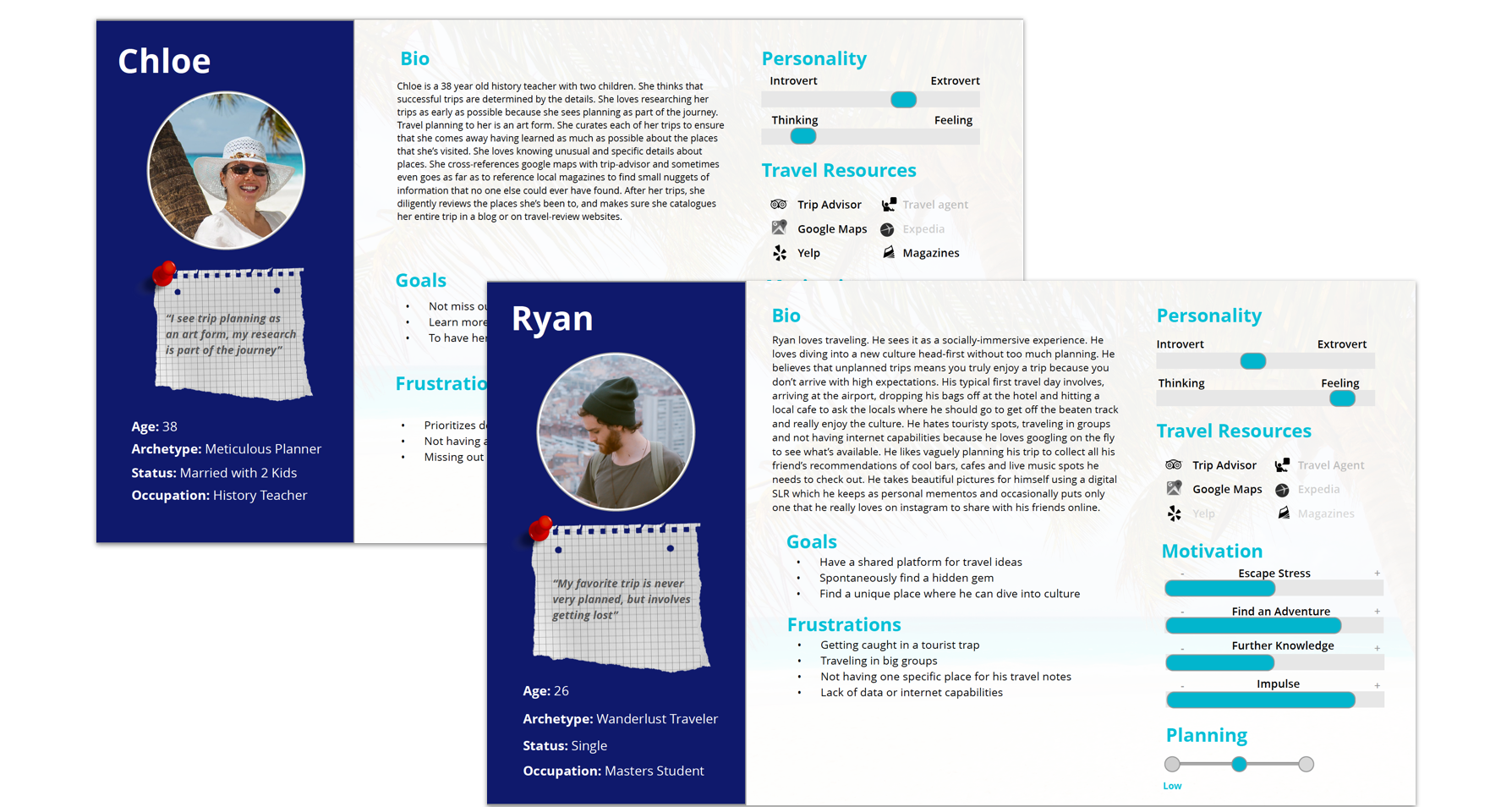 The UX team determined the two types of users who were most likely to use Tripidee: the meticulous planner and the wanderlust traveler. The meticulous planner wanted to have total control over their trip planning experience while the wanderlust traveler simply wanted to be as efficient as possible. For my iterations I decided the best design direction to go in would be a clean interface with an emphasis on imagery and limited color.
With these factors in mind and the matrix in hand we came up with some design principles to serve as a foundation to make sure Tripidee was consistent, stood out from the competition, and most importantly: met user needs.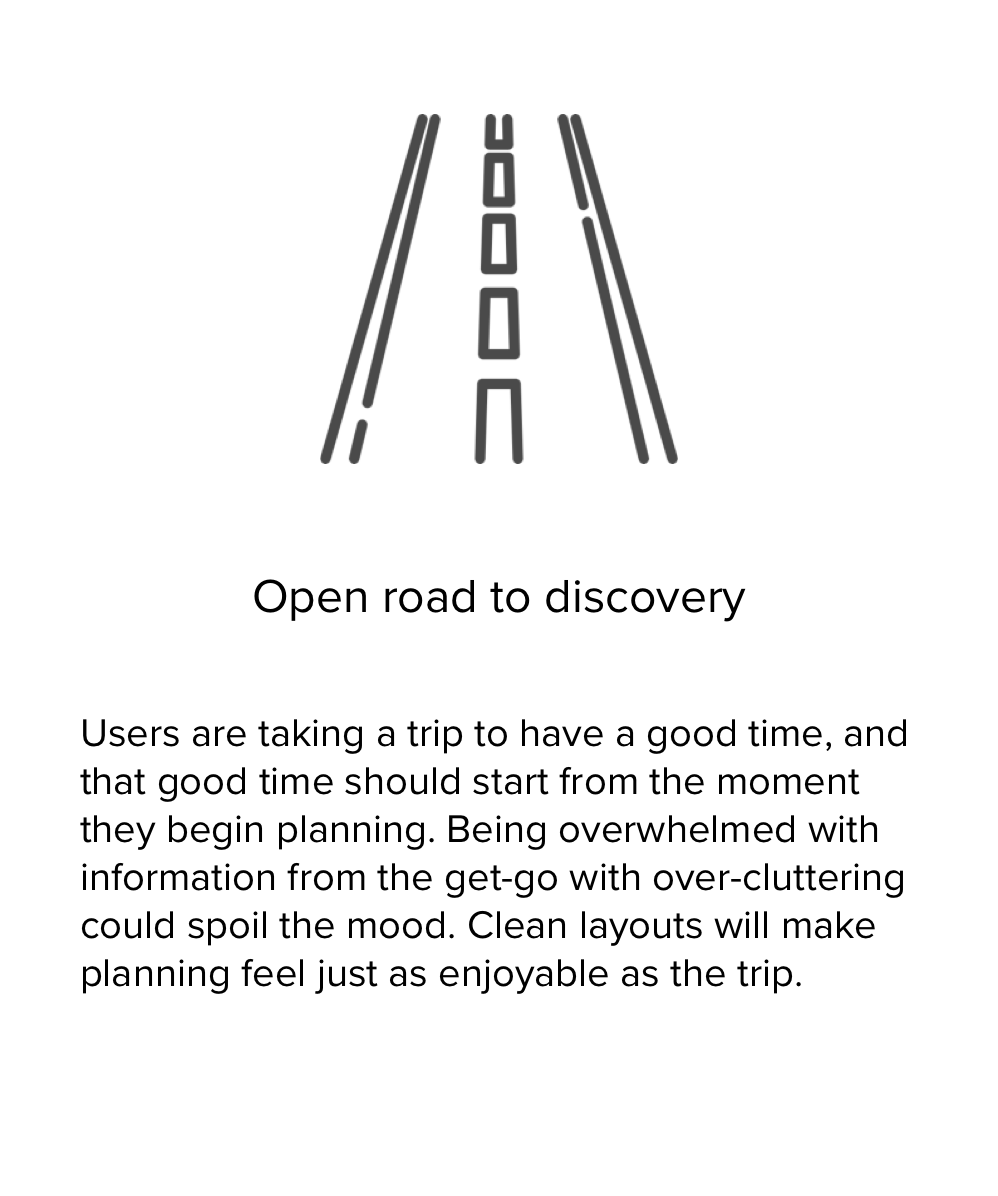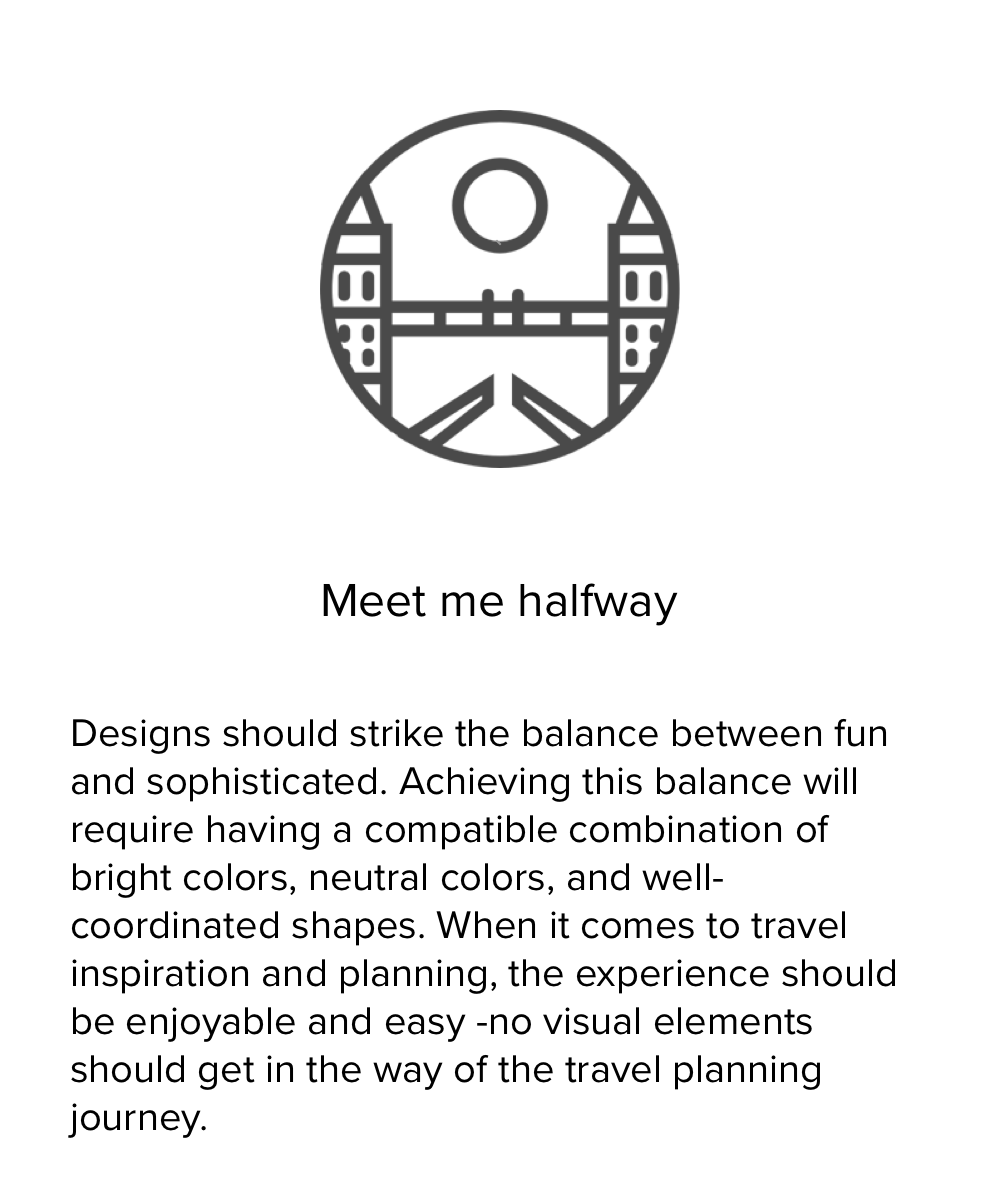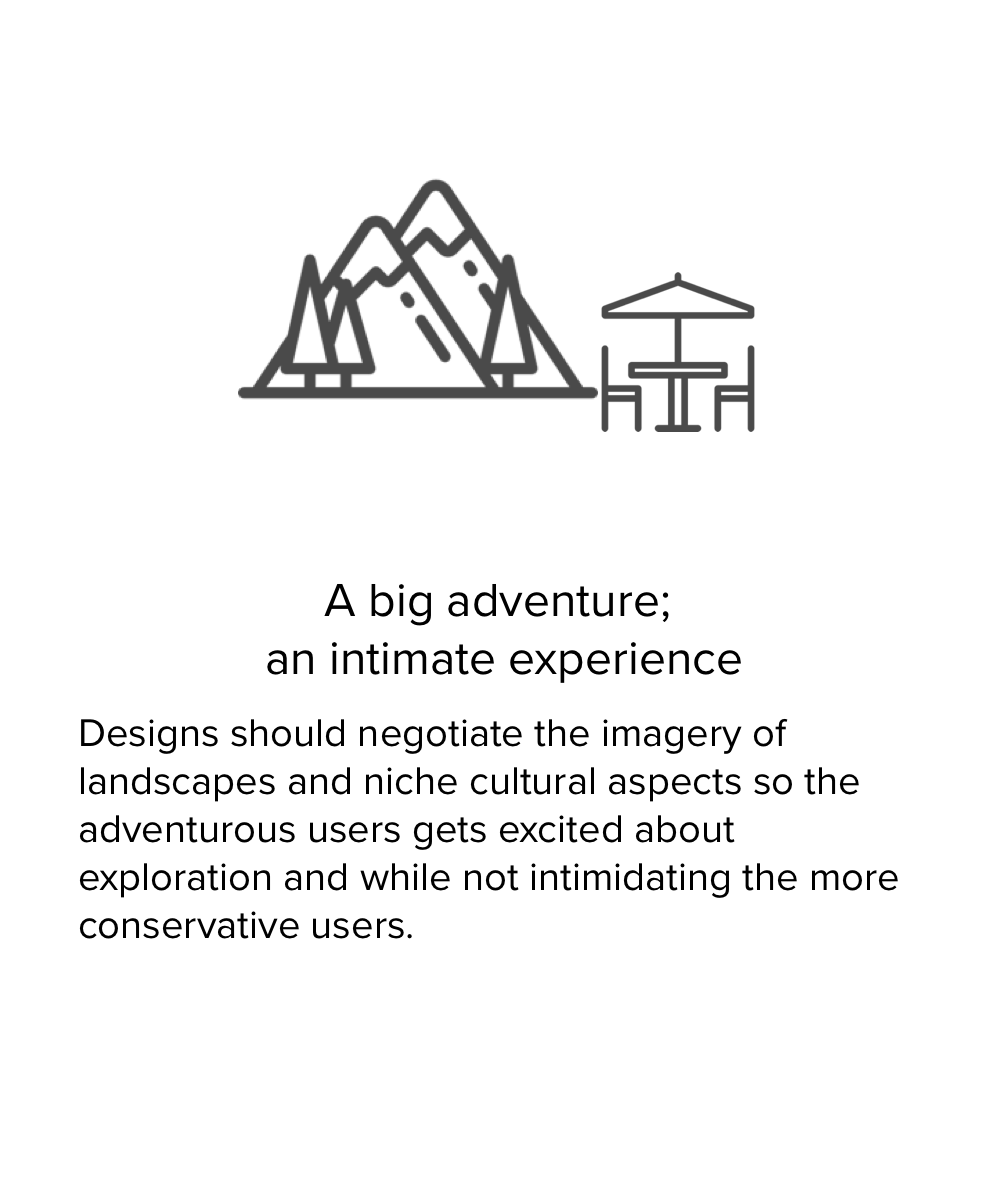 With the preliminary research completed I created three divergent style tiles to explore different options in UI elements, color palettes and photographic directions.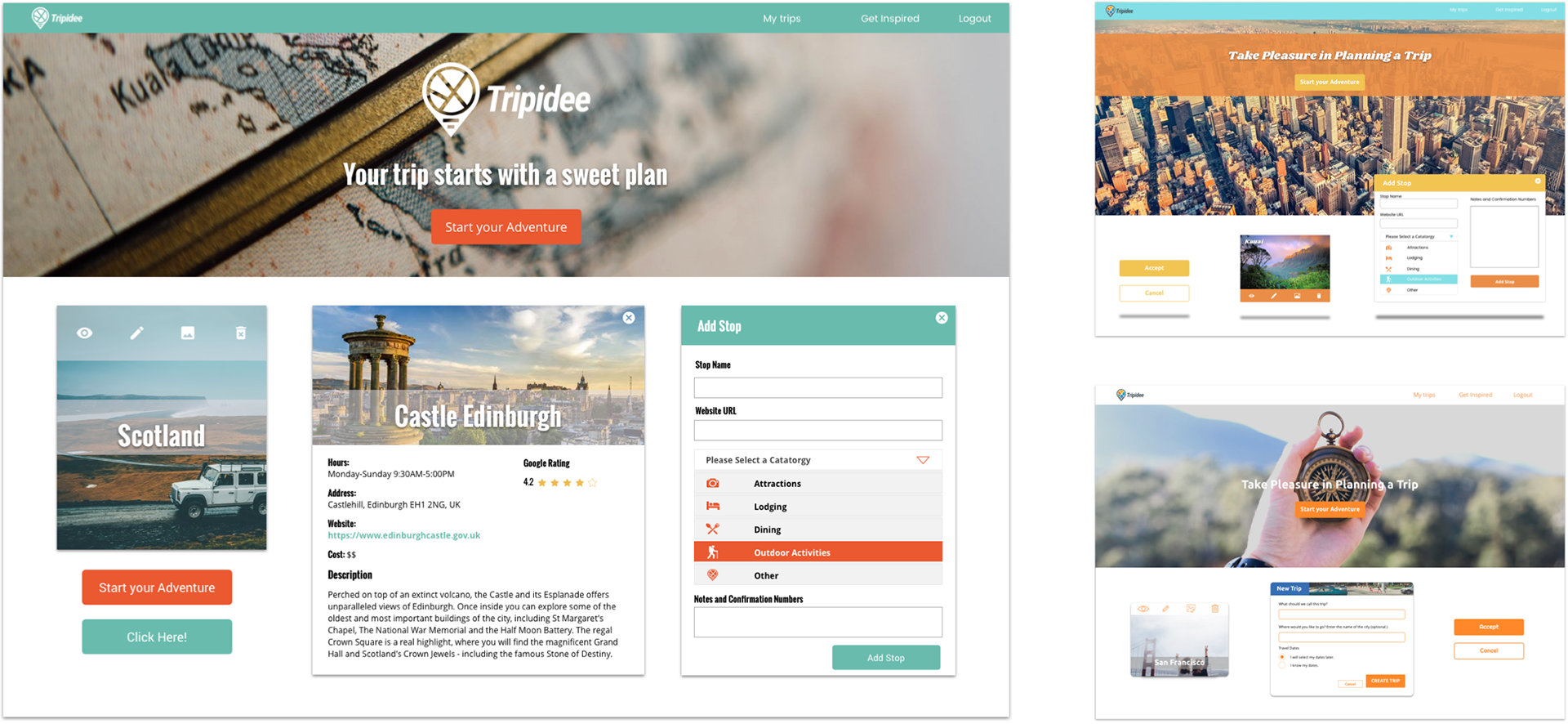 In choosing to emphasize the great outdoors, I wanted my designs to express the notion that there is great big world out there and users are only a few clicks away from exploring it. It is for this reason I switched out the icons on the home page for paginated images. This tested well with users. I also changed the copy for the CTAs that the founders thought was a great improvement on the original.
When it came to redesigning the Community Inspiration section I did away with the clutter of the collage to stay in line with our open road to discovery principle. I reorganized the suggestions into lanes and added hover states to each container to avoid crowding so the imagery would be unobstructed.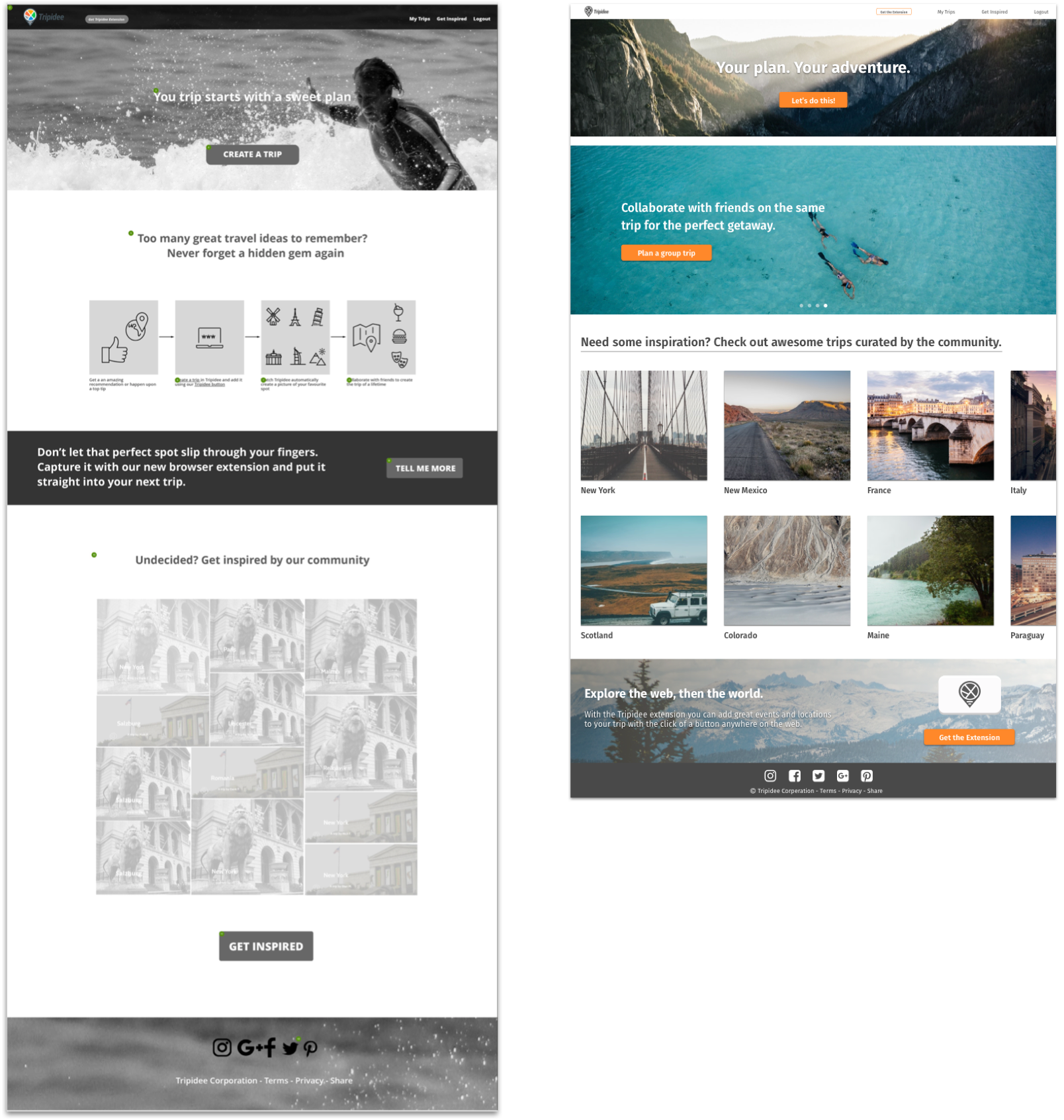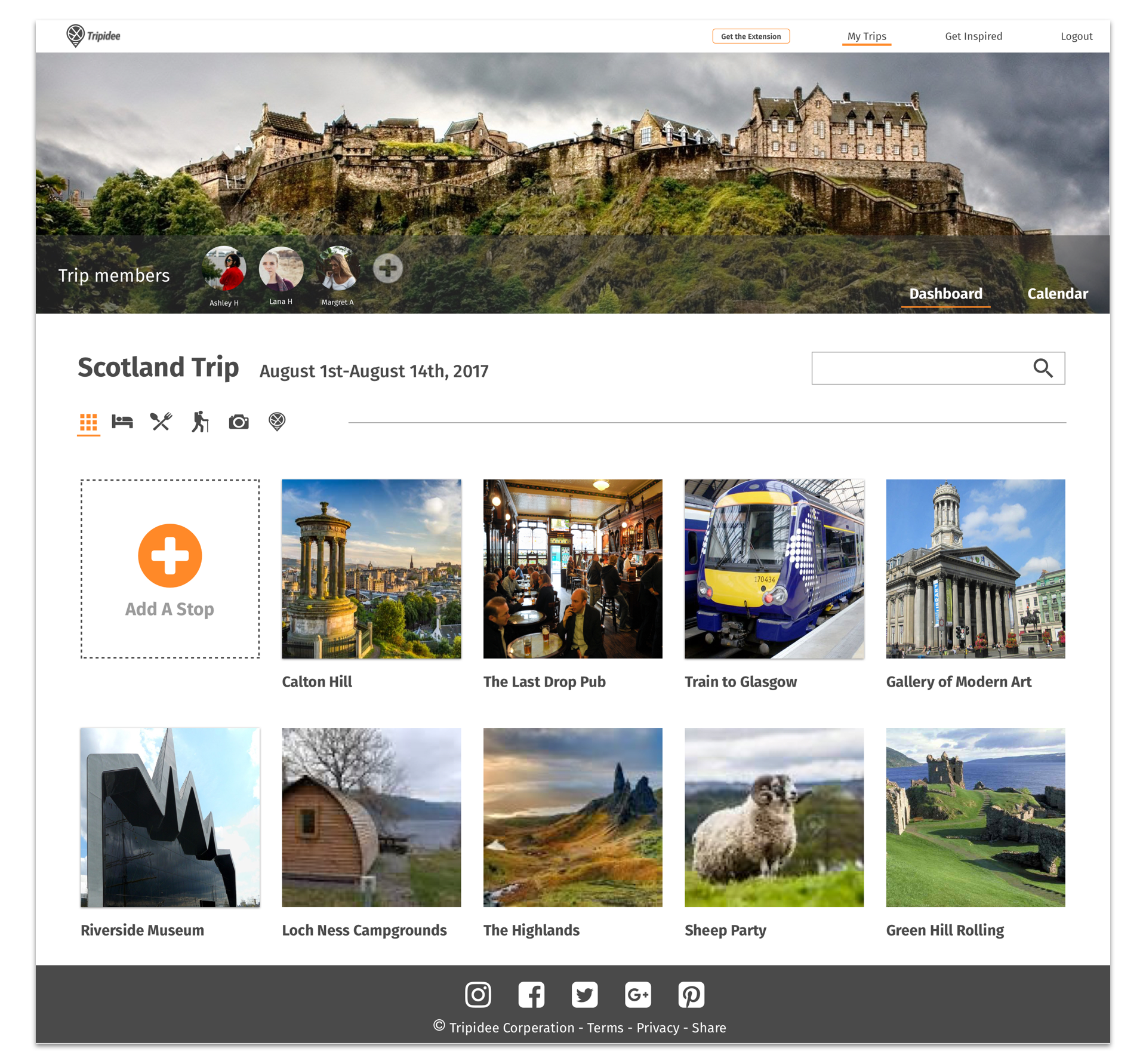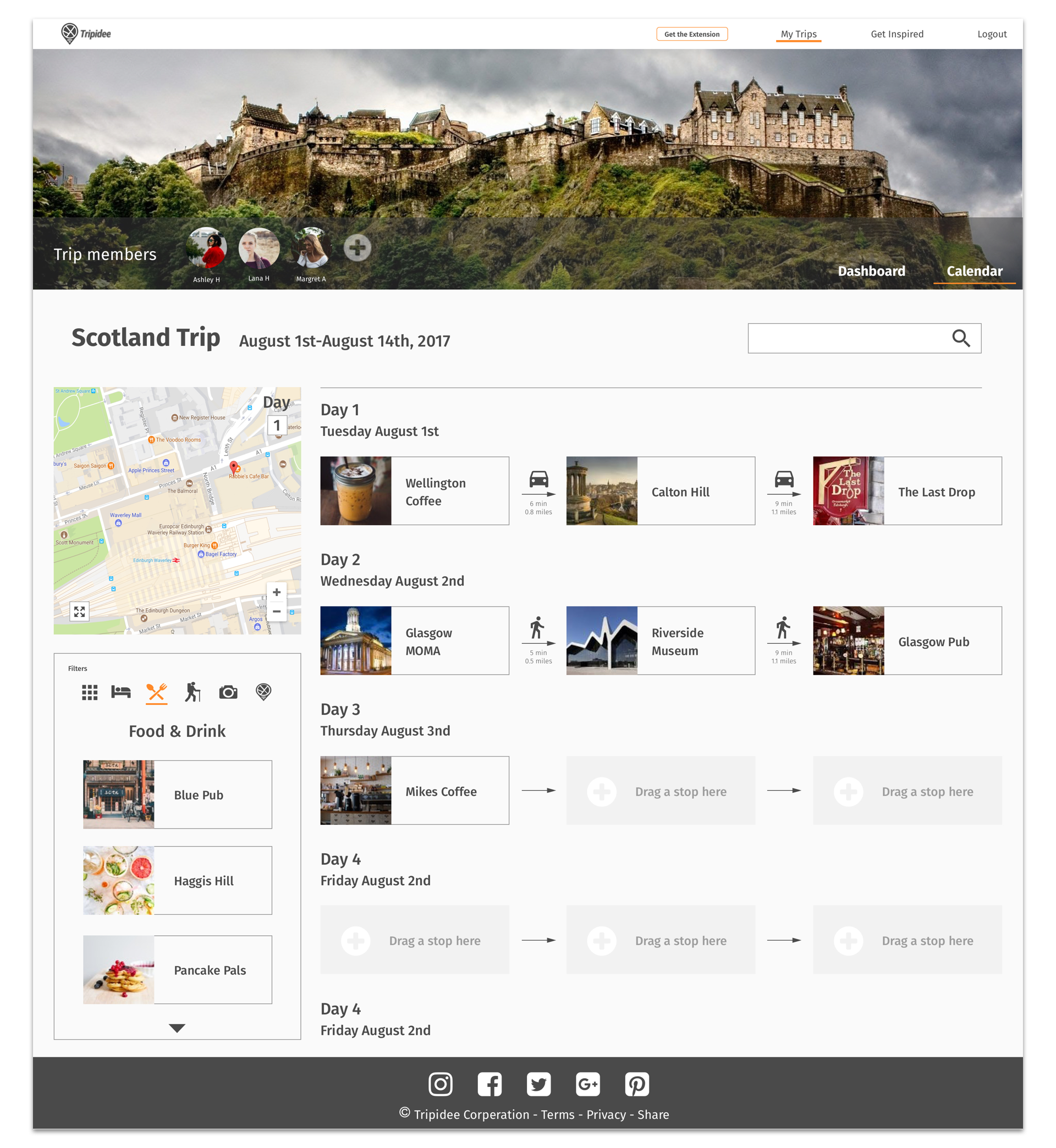 In addition to a functioning prototype we gave our clients style guides. These would prove to be an invaluable asset should they need a quick reference to the implemented styles and foundational elements.

I had a blast doing the redesign of the Tripidee website. The importance of imagery in a site like this was the most interesting thing I learned from testing. I was hard-pressed to find a balance that would excite the wanderlust user through the imagery and give the maticulous planner confidence though an exhibition of the sites features. A balance I was reassured was there in the final rounds of testing.
Three weeks to put together an identity for a brand was both intimidating and exhilarating. I worked with a wonderful team and excellent clients. Ultimately, I'm very proud of this work because I designed something that works well and looks great for both the users and the clients.